z
Al-Qaeda says it killed Benazir Bhutto
Terrorist organisation al-Qaeda has claimed responsibility for the murder of Pakistani politician Benazir Bhutto. In a telephone interview with journalist Syed Saleem Shahzad, al-Qaeda commander Mustafa Abu al-Yazid said that Ms Bhutto was killed because she supported the war against al-Qaeda.

Mustafa Abu al-Yazid seen here earlier this year on al-Jazeera TV
"This is our first major victory against those who have been siding with infidels in the fight against al-Qaeda and declared a war against mujahedin."
Brigadier-General Javed Cheema, spokesperson for Pakistan's interior ministry, accused al-Qaeda of being behind Ms Bhutto's murder on Friday. The Brigadier-General told French news agency AFP that the popular politician was on al-Qaeda's hit list.
Attack to-order
According to al-Yazid, who proclaimed himself commander of al-Qaeda in Afghanistan last May, al-Qaeda ordered Lashkari I Jhangvi, a Pakistani Sunni terrorist group active since the 1990s, to carry out the attack.

The Lashkari I Jhangvi organisation has carried out a number of attacks, including the one in 1999 against then Prime Minister Nawaz Sharif and the 2002 kidnapping and murder of US journalist Daniel Pearl.
Lashkari I Jhangvi was banned in 2001 by President Pervez Musharraf and the US put the group on the list of foreign terrorist organisations in 2002.
Earlier this year, activists from the organisation were involved in the occupation of the Red Mosque in Islamabad। Lashkari I Jhangvi members follow a strict interpretation of the Koran and are ideologically close to the Taliban. Many members of the group also fought in Afghanistan.
------------------------------------------------------------------------------------------------
Al-Qaeda claims responsibility of Bhutto's assassination
(Agencies)
Updated: 2007-12-28 15:29
A spokesperson of Al-Qaeda has Thursday claimed responsibility for the killing of former Pakistani prime minister Benazir Bhutto, Italian independent news agency Adnkronos International (AKI) said.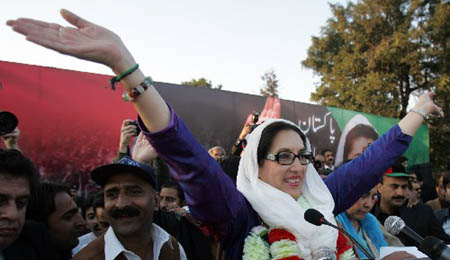 Former Pakistani Prime Minister Benazir Bhutto waves to her supporters at Liaquat Bagh in Rawalpindi, Pakistan, Dec. 27, 2007. Bhutto died Thursday as Party security adviser says she was shot in the neck and chest as she got into her vehicle, then gunman blew himself up. At least 20 others were also killed in a blast that took place as Bhutto left the rally. [Xinhua]
"We terminated the most precious American asset which vowed to defeat the mujahadeen," Al-Qaeda's commander and main spokesperson Mustafa Abu Al-Yazid told AKI in a phone call from an unknown location.
Al-Yazid, who is the main Al-Qaeda commander in Afghanistan, said that the decision to kill Bhutto, who is the leader of the opposition Pakistan People's Party (PPP), was made by al-Qaeda number two Ayman Al-Dhawahiri in October this year, according to AKI.
Bhutto had just addressed a pre-election rally on Thursday in the garrison town of Rawalpindi when a suicide bomber blew himself up.
At least 15 other people were killed in the attack and several others were injured.
Al Qaeda already took responsibility for the first unsuccessful attempt on Bhutto's life back in October.
---------------------------------------------------------------------------------------------
ISLAMABAD, Pakistan (CNN -- Al Qaeda has claimed responsibility for the assassination of former Pakistani Prime Minister Benazir Bhutto, a Pakistani Interior Ministry spokesman said Friday.
An Italian news agency says al Qaeda's Ayman al-Zawahiri began planning the Pakistan killing in October.
A report by the state-run Associated Press of Pakistan quoted ministry spokesman Brig. Javed Iqbal Cheema as saying, "Al Qaeda in a statement has accepted the responsibility of her assassination, as in the past she had been receiving life threats from this terrorist group."
CNN could not independently confirm that al Qaeda has claimed responsibility.
On Thursday, the FBI and Department of Homeland Security issued a bulletin citing an alleged claim of responsibility by the terror network for Bhutto's death, a DHS official said.
But FBI and other law enforcement officials said that the claim is unsubstantiated and that federal officials are not making any comments about its validity.
No one has accepted responsibility for the Pakistani opposition leader's death on radical Islamist Web sites that regularly post such messages from al Qaeda and other militant groups.
Bhutto, 54, was killed Thursday in Rawalpindi, Pakistan, by flying shrapnel stemming from a suicide bombing, the Pakistani government said.
See photos from rally and aftermath »
Italian news agency Adnkronos International apparently was the source of the al Qaeda claim, saying the terror network's Afghan commander and spokesman Mustafa Abu Al-Yazid had telephoned the agency with it.
Don't Miss
"We terminated the most precious American asset which vowed to defeat [the] mujahedeen," the Italian news agency quoted Al-Yazid as saying.
The agency said that al Qaeda's No. 2 official, Ayman al-Zawahiri, set the wheels in motion for Bhutto's assassination in October.
One Islamist Web site repeated the assertion, but experts in the field don't consider the site to be a reliable source for Islamist messages.
The DHS official said the claim was "an unconfirmed open source claim of responsibility" and the bulletin was sent out at about 6 p.m. Thursday to state and local law enforcement agencies.
Watch as an analyst says the killing gives al Qaeda "running room" »
The official characterized the bulletin as "information sharing."
FBI spokesman Richard Kolko said the validity of such a claim is "undetermined." Kolko said the FBI and the intelligence community is reviewing it "for any intelligence value."
Ross Feinstein, spokesman for Director of National Intelligence Mike McConnell, said the U.S. intelligence community is monitoring the situation and trying to figure out who is responsible for the assassination.
"We are not in a position to confirm who may be responsible," Feinstein said.
Bhutto had been critical of what she believed was a lack of effort by Pakistani President Pervez Musharraf's government to protect her.
About a week after an October 18 car-bomb attack on her motorcade in Karachi, Pakistan, Bhutto sent an an e-mail to Mark Siegel, her U.S. spokesman, lobbyist and longtime friend.
Siegel forwarded the message to CNN's Wolf Blitzer with instructions not to report on it unless Bhutto was killed.
In the e-mail, Bhutto said Musharraf should bear some of the blame if anything were to happen to her.
View timeline »
"I have been made to feel insecure by his minions and there is no way what is happening in terms of stopping me from taking private cars or using tinted windows or giving jammers or four police mobiles to cover all sides cld happen without him," she said in the e-mail।
Musharraf, after an emergency meeting of his top officials Thursday, told his nation the attack was "the work of those very same people with whom we are waging a war. Pakistan's biggest threat comes from these terrorists."
"We will not sit in peace until we finish off these insurgents and terrorists, until we get rid of them from their very roots because in this is Pakistan's success and health," he said। "Otherwise, this is the biggest obstacle in our quest for peace